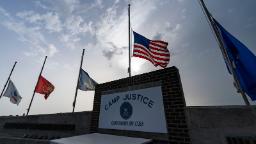 Barhoumi was released for transfer in August 2016 but was still held in Guantánamo while waiting for the US government to find a willing third country to repatriate to, as the government does for all Guantanamo detainees who have been admitted to transfer .
Barhoumi was detained in Guantánamo nearly 20 years ago, according to the Center for Constitutional Rights.
"On August 9, 2016, the Periodic Audit Commission Process determined that Mr. Barhoumi's war custody law is no longer necessary to protect against a continuing serious threat to the national security of the United States. Therefore, the PRB recommended that Mr. Barhoumi will be repatriated to his home country of Algeria, subject to security and humane treatment, the Department of Defense said in a press release.
Defense Secretary Lloyd Austin informed Congress in February The department reads about the intention to repatriate Barhoumi.
"Our government owes Sufyian and his mother years of their lives," Sufiyana attorney Shayana Kadidal of the Center for Constitutional Rights said in a statement. "I'm glad he will be home with his family, but I will miss his constant good humor and compassion for the suffering of others in the totally depressing environment of Guantánamo."
Barhoumi is the third Guantánamo detainee to be repatriated under Biden's administration.
In March, the Department of Defense announced Mohammed al-Qahtani's repatriation to Saudi Arabia for the treatment of mental illness. Abdul Latif Nasir's repatriation to his home country of Morocco was announced in July 2021.
Both Barhoumi and Nasir were allowed to be transferred under the Obama administration. Al-Qahtanini was allowed to be transferred during the Biden administration.
President Joe Biden said he wanted to close the Guantanamo Bay prison. Following Barhoumi's transfer, 37 detainees remain in prison, 18 of which have been allowed to be transferred.