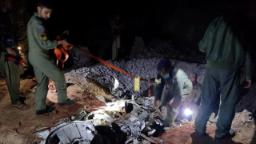 Military experts have warned in the past of the risk of accidents or miscalculations from nuclear-armed neighbors who have fought three wars and participated in numerous minor armed clashes, usually in disputed Kashmir territory.
Tensions have eased in recent months, and the incident – which may have been the first of its kind – immediately raised questions about security mechanisms.
"On March 9, 2022, during routine maintenance, a technical fault led to an accidental launch of a missile," the Indian Ministry of Defense said in a three-point statement.
"We learn that the missile has landed in the Pakistani area. While the incident is regrettable, it is also a relief that the accident did not result in any fatalities. "
The ministry said the government "took a serious view and ordered a high-level investigative tribunal".
Pakistani officials said the missile was unarmed and crashed near the country's eastern town of Mian Channu, about 500 kilometers (310 miles) from the capital, Islamabad.
Pakistan's Foreign Office called on the Indian charge d'affaires in Islamabad to protest what it called an unprovoked breach of its airspace, saying the incident could endanger passenger flights and the lives of civilians.
Pakistan warned India "to be aware of the unpleasant consequences of such neglect and to take effective measures to avoid a repetition of such violations in the future."
Ayesha Siddiqa, an expert on military and South Asian affairs, tweeted that "India-Pak should talk about risk reduction."
"Both states were confident that they had control over their nuclear weapons, but what if such accidents repeat themselves and have more serious consequences?"
"Mature service"
One senior Pakistani security officer told Reuters, on an anonymous condition, that the incident had triggered the alarm and could degenerate into a "critical, unfortunate situation."
"Admitting it was a missile was very nonchalant," he said. "What does this say about their safety mechanisms and the technical efficiency of a very dangerous weapon?" The international community has to look very closely at this. "
The official said it was likely the BrahMos missile – a nuclear-capable maneuvering missile jointly developed by Russia and India.
According to the American Arms Control Association, the missile's range ranges from 300 km (186 miles) to 500 km (310 miles), making it capable of hitting Islamabad with a North Indian launcher.
A Pakistani official wondered if the incident meant India had "missiles in launch-ready positions and aimed at Pakistan, and without any command and control protection."
A Pakistani military spokesman said Thursday at a press conference that a "high-speed flying object" originating in the North Indian city of Sirsa had crashed in eastern Pakistan.
"The flight path of this facility threatened many domestic and international passenger flights in both Indian and Pakistani airspace and human life and property on the ground," he said.
A Pakistani air force representative said the object, flying 12,200 meters and three times the speed of sound, flew 124 kilometers (77 miles) in Pakistani airspace.
Happymon Jacob, professor of international studies at Jawaharlal Nehru University in New Delhi, said that both sides coped well with the situation.
"It gives me great hope that the two states with nuclear weapons handled the missile incident in a mature way," he wrote on Twitter. "New Delhi should offer compensation payments for the Pak's destroyed house."