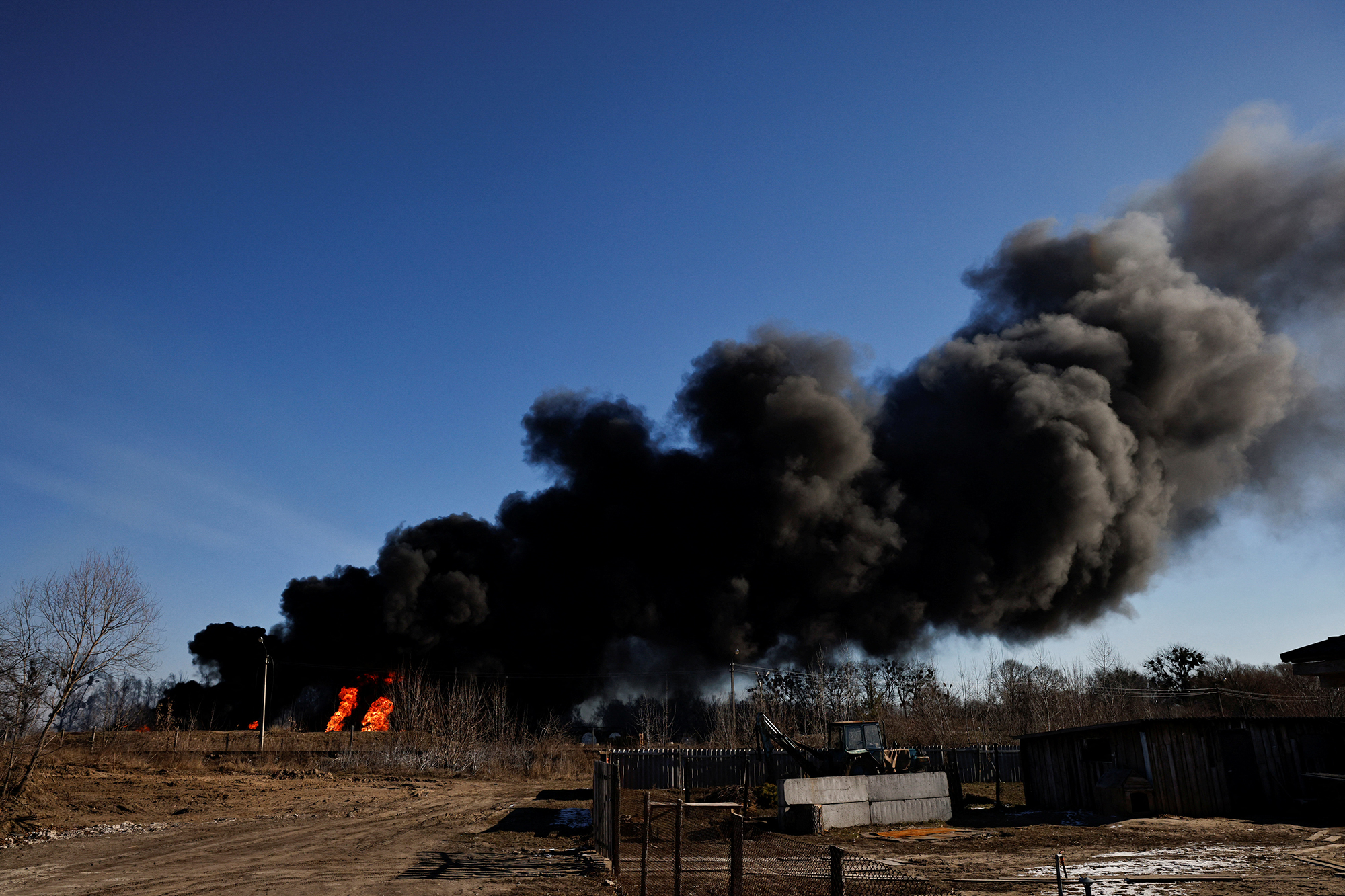 A column of smoke rises from burning fuel tanks at the Wasylków air base in Ukraine on March 12 (Thomas Peter / Reuters)
According to local officials, Russian rocket and air raids caused damage to the north and south of the Ukrainian capital in the early hours of Saturday.
In Chernihiv, about 100 kilometers north of Kiev, the hotel Ukraina, the city's landmark, was struck at night.
"I'm here now. There is no hotel anymore, "said Vyacheslav Chaus, head of the administration of the Chernihiv region on Saturday.
The enemy continues air and missile attacks on the city of Chernihiv. Civilians are killed, many people are injured. The enemy is firing at civilian infrastructure in which there is no military, "he said.
Chernihiv has been surrounded by Russian forces for more than a week, and a video from the city shows extensive damage from rockets and air raids.
Chaus added that the city "has no electricity, hardly any water, gas and heat," and while efforts to restore electricity on Friday were successful, "the enemy hit the electricity grid again."
A video on social media from Wasylków, south of Kiev, showed a fuel depot in a fire after a strike in the early hours of Saturday, and the military airport there appears to be severely damaged.
The mayor of the city, Nataliia Balasynovych, said on Facebook: "Today, around 7 am, enemy forces shelled the city of Wasylków. Eight missiles hit, shelled the airport. As a result of the missile strikes, the airport was completely destroyed, the runway was destroyed. "
She added that "the ammunition depot was also detonated. The ammunition is still detonating, because one of the shells hit the ammunition depot. The fuel and lubricant depot was also destroyed. As a result, our airport capacity was completely eliminated."
The Russian Ministry of Defense has previously announced that a high-precision long-range weapon has hit the military airport in Wasylków.